APPRENTICESHIP
Know the benefits.
INTRODUCTION TO APPRENTICESHIP
A living that's made for your life.
Guidance and mentorship. Paid training. Continuing education. Real wages. Opportunities for advancement. Learning a skilled trade is your path toward a lasting career. Take the first step and discover the career that was made for you.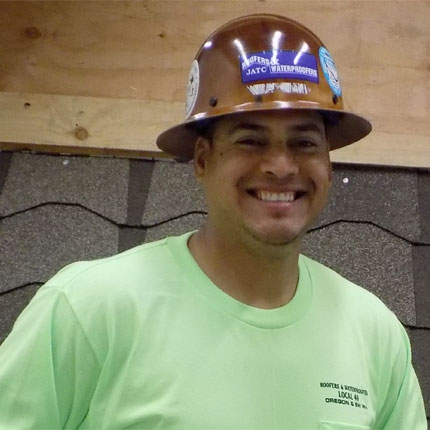 Jaime Alfaro
Journey-level Roofer & Waterproofer
Training hours: 4,000
Classroom hours: 168
Pre-Apprenticeship program: N/A
It's possible to be somebody you're proud of.
How does apprenticeship work?
Registered Apprenticeship provides occupational training that combines paid, on-the-job experience and classroom instruction.

Start by searching apprenticeship programs to find the occupation that's right for you.

When you've decided on an occupation, search opportunities and apply directly with the employer or the program sponsor.
QUALIFICATIONS
Ready to get started?
Are you 18 years of age or older?

Do you have a good attitude and work ethic?

Do you have reliable transportation?

Do you have a high school diploma or GED?

Do you have a plan for childcare?
Intro to Registered Apprenticeship
You were made to create new possibilities.